By Allison Moore
One day, you'll look
To see I've gone
But tomorrow may rain, so…
I'll follow the sun…
-The Beatles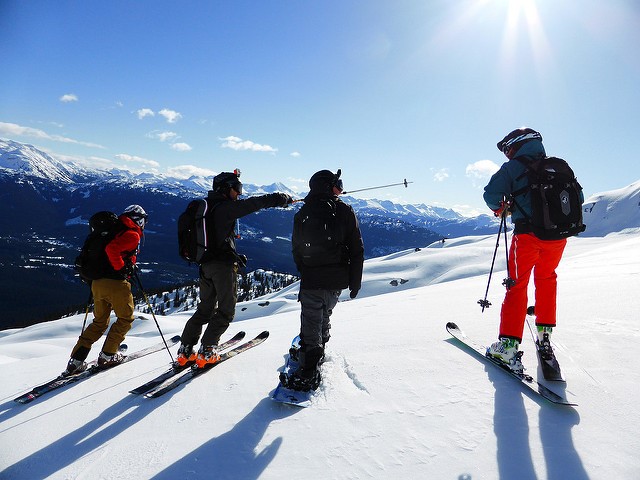 Unbeknownst to The Beatles, that song actually imparts some good advice to skiers…Follow the sun. This tip is especially prudent when you're trying to decide on your first run of the day. As the sleepy sun rises in the sky, finding trails that are graced by these morning rays is a smart choice because these runs will naturally be the first ones to soften up and allow you to carve your best ride. With that advice in mind, here are some of the best first runs of the day in Colorado:
Best morning runs at Telluride
Jump on the Plunge Lift for some morning corduroy and hit either Bushwacker or Upper Plunge. No matter which one you choose, both runs offer some of the best high angle, long groomers to help you get your ski legs going for the day ahead.
Best morning runs at Keystone
Hands down, Mozart is the trail that everyone recommends hitting as the first run of the day. It's long, winding and groomed. The perfect combo for the start of any ski day.
Best morning runs at Vail
Riva Ridge. This is one of Vail's signature runs, a four-mile twisting run that is usually groomed from top to bottom. A word to the wise, this run is more appropriate for intermediate to advanced intermediate skiers. Beginners would do best to get on Practice Parkway, a wide, rolling run that gently warms you up.
At the top of Cinch Express lift, head left and you'll see Red Buffalo and Piney, two lovely wide open green trails. You'll have a chance to get the blood flowing, and then be presented with the choice of stepping up to a blue trail, or continuing on a green, as Red Buffalo ends at mid mountain. If you want to stick with green, get onto Cinch Trail and enjoy a long, gentle traverse.
Aspen Mountain (or Ajax): Word to the wise, Ajax is definitely not a beginner mountain. More suited to the strong intermediate to expert skier, Ajax's choices for first warm-up runs won't be green cruisers. But not to worry, there are plenty of great blue runs to wake up to. The Copper run is one of these, a nice long winding trail that runs along the side of the mountain, and if the mood strikes, you can easily jump into one of the numerous glade trails that shoot off of it.
Snowmass: Sneaky's. Located off of the Big Burn lift, faces east and warms up fast. A great sunny first run. If you are looking to ease into the day a little slower, the Max Park and Lunchline trails are in the same area, offer all the same sunshine, just in a more gentle setting. Both of these runs are great for beginners and any one looking for a nice easy warm up.
Best morning runs at Steamboat
Steamboat: You may very well still be in a haze first thing in the morning (maybe the altitude, too much après ski, etc), but trust me, Heavenly Daze is a very good thing. To get to this run, head down from the gondola and you'll have all the room you need to carve big, wide turns and in no time, will be turning that daze to dazzle.
---
About the Author, Allison Moore
Originally from the east coast, Allison learned to ski at a young age on the trails of Stratton Mountain, Vermont. Since that time, she has made Colorado her home, not missing any of the ice back east, and soaking up all the sun and powder days she can. When Allison isn't on skis, she enjoys spending time with her family and dog Blue, a 10 year old English Pointer, hiking the hills of Boulder, cooking, reading, writing, and making plans to travel and see new things whenever possible.