Big Bear Lake, California

The alpine resort community of Big Bear Lake is a unique destination abounding in pine and oak forests and natural surroundings just waiting to be explored. Just 100 miles northeast of Los Angeles, this stunning mountain playground draws in adventure seekers and outdoor enthusiasts with its pristine landscape and near-endless expanse of mountain trails for skiing, hiking, biking, and horseback riding. The lake provides opportunities for fishing, boating, and a number of water sports.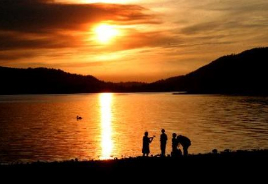 Big Bear Lake also caters to those just looking for a relaxing space to unwind and take in the natural scenery. In town there are outstanding restaurants and cafés, boutiques, galleries, spas, a public zoo, and a number of great events and attractions. A cozy mountainside condo or vacation rental can put you near the slopes or a step away from the golf course. Make Big Bear Lake the destination of your next summer getaway or wintertime ski trip and experience the natural wonder of this alpine resort community for yourself.