Snow brings skiers and boarders to the mountains every winter, but it's the summer season that truly brings the mountains to life. With wildflowers in blossom and our favorite trails open for hiking and biking, festivals and events call the mountains home when the days are long and the sun is set high. From beer and wine events to some of the best music festivals in the world, the mountains in the Western U.S. are the place to be this summer! See a few of our favorite events that should not be missed this year.

Breck Bike Week | June 21–25
Breck Bike Week invites all types of cyclists, from beginners to experts, to experience a week of clinics, bike cruises, demos, expos, kid's strider zone and a bike exchange! Top events on the schedule include bike to work day, a bike-in movie, the mayor's favorite lunch ride, women's mountain bike clinics, happy hour bike maintenance clinics, Enduro racing on Breckenridge Mountain and a nighttime group ride, ending with a bonfire and s'mores. The week ends with a poker ride, where bikers will pick up a poker card at five different stops to make up the best possible poker hand before the end of the ride, and hopefully earning great prizes!
Photo: Breck Bike Week
Crested Butte Wildflower Festival | July 7–16
Since 1986, Crested Butte has surrounded flower-lovers and admirers alike with the sweet symphony that is the Crested Butte Wildflower Festival. Originally envisioned as a way to celebrate one of Colorado's most picturesque valleys, the festival has now grown into a summer-long season with over 300 events offered by more than 60 instructors. The event offerings include hikes and walks, art workshops, photography classes, garden tours, jeep tours, edible offerings, botany and conservation and birding and butterfly classes.
Photo: Crested Butte Wildflower Festival
Deer Valley Music Festival | July 1–Aug. 5
The Deer Valley Music Festival is home to the Utah Symphony and Utah Opera during the summer. Entering their 13th season, the music festival lasts from July to August, and brings in famous musicians and vocalists from around the world. This year specials guests include The Beach Boys, Patti Austin singing Ella Fitzgerald and a special showing of Harry Potter and the Sorcerer's Stone with live symphony accompaniment. The concerts are held on the slopes of Deer Valley using the Deer Valley Amphitheater and St. Mary's Church.
Photo: Deer Valley Music Festival
Grand Teton Music Festival | July 3–Aug. 20
Each year Jackson Hole features the world's biggest musical talent, bringing together the finest in classical music and introducing the rising stars. Under the baton of Music Director Donal Runnicles, musicians come together from symphonies around the country to gather inspiration from the mountain setting and provide amazing music for festival patrons. Events for the 2017 festival include a fundraising gala featuring the famed cellist, Yo-Yo Ma, Patriotic Pops on July 4, weekend Festival Orchestra concerts, open rehearsals, intimate chamber concerts, free family concerts and lessons behind famous musical pieces and much more.
JAS Labor Day Experience | Sept. 1–3
Entering its 27th year, Jazz Aspen Snowmass (JAS) provides three days of world-class musical experiences and crowds of up to 11,000 people per day. Along with headline performances, two smaller stages keep the music going all day with a mix of up and coming artists. Other entertainment includes shopping, eclectic food and beverage vendors, a kid's corner and more. The 2017 lineup includes Maroon 5, Keith Urban, Nathaniel Rateliff & The Night Sweats, Daryl Hall & John Oats, The Roots and more!
Mammoth Motocross 50th Anniversary | June 16–25
Mammoth Motocross, the granddaddy of them all, turns 50 this year and the celebration are bigger than ever. Every summer since 1968, motocross racers have flocked to Mammoth Mountain, creating the oldest continuous running motocross in the U.S. Many top racers in the world have sharpened their skills here, and through some epic battles over the years, many have also made a name for themselves. Mammoth Motocross isn't just for the professionals, many amateurs flock in to test their skills in the min-races. Plenty of other activities help set the stage for fun as well, including live music in the village, the Americore SMX Rock 'n Bowl, a village bash and a village after party with drink specials and live music.
Squaw Valley Art, Wine & Music Festival | July 8–9
The village at Squaw Valley will burst with color, taste and sound as fine artists, crafts makers, performers and musicians come to participate in this exciting, two-day annual event. The festival features wine tastings from 2-5 p.m. both days, three performance stages, restaurants, shops and walkways lined with fine art booths and exhibits. All proceeds from the festival will go to Achieve Tahoe, an organization devoted to providing affordable and inclusive physical and recreational opportunities to promote health and confidence.
Steamboat Hot Air Balloon Rodeo | July 8–9
This July marks the 36th annual Hot Air Balloon Rodeo and the 43rd annual Art in the Park. Both events promote artistry among Steamboat patrons, both on canvases and in the air. The Rodeo kicks off Saturday and Sunday at 6:30 a.m. as pilots compete in different competitions, like taking a dip in Bald Eagle Lake. Guests are encouraged to arrive early, sip on some coffee and enjoy breakfast from a local vendor while they watch hot air balloons dot across the Yampa Valley. There will also be a kid's area so parents can watch the competitions while keeping their children occupied.

After the hot air balloons touch ground, guests can head over to Art in the Park to check out local arts and crafts, performances and an interactive children's area. There will also be a farmer's market and the balloon glow, taking place Saturday night, where patrons can view the balloons colors as they light up on Mt. Werner.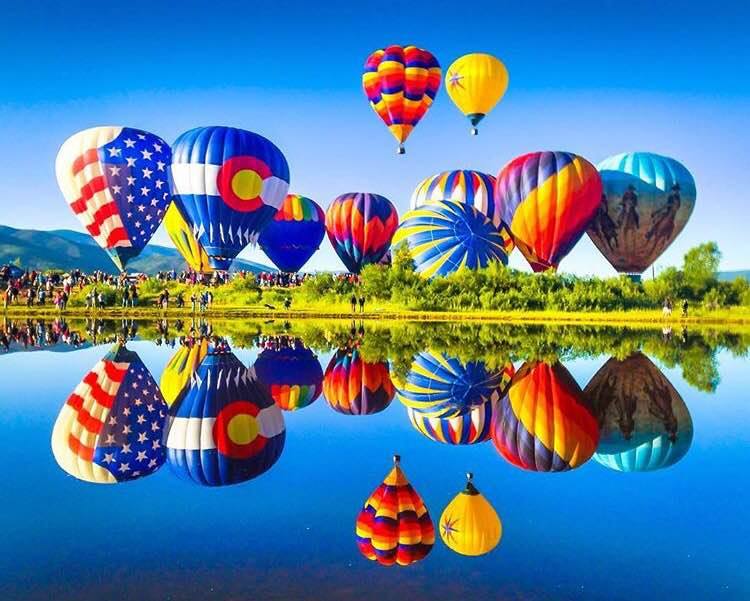 Photo: Steamboat Hot Air Balloon Festival
Telluride Bluegrass Festival | June 15–18
Each June Telluride hosts the famed Telluride Bluegrass Festival on the weekend closest to the summer solstice, and provides four magical days of "only in Telluride" musical performances from beloved veterans and new musical talent. Over the years many artists have helped to define the festival sound, including Mark Rowan, Béla Fleck, Jerry Douglas, Christ Thile, Tim O'Brien and "King of Telluride" Sam Bush. Many of the festival's "Festivarians" have been making the pilgrimage to Telluride for over 20 years, and now the children who grew up with Telluride Bluegrass are introducing their own families to the magic. This year's lineup will also include Jason Mraz, Norah Jones, Dierks Bentley with The Travelin' McCourys, Bradi Carlile and many more.
Photo: Telluride Bluegrass Festival
Vail International Dance Festival | July 29–Aug. 12
Established in 1989, the Vail International Dance Festival features both performance and educational elements, solidifying Vail as one of the top summer dance destinations in the world. Entering its 29th year, the festival is led by Artistic Director Damian Woetzel, and features many forms of dance with an international reputation. Artists from acclaimed ballet schools, companies and theaters around the world visit the festival each year, and bring a dedicated following. Performance events include all dance styles, from traditional ballet to street dance, ending with a closing-night celebration featuring BalletX.