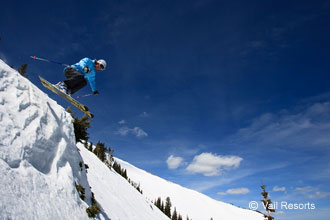 Keystone is a unique Colorado resort that will provide an unforgettable ski vacation. With three different mountains that span a total of 3,148 acres, its ideal for both skiers and snowboarders alike. With a long six month ski season that runs from late October to late April, long 12 hour ski days and Colorado's largest night ski operation, Keystone is now referred to as the "ultimate all things to all skiers" resort.
Keystone is also one of the few resorts in the country that offers guided Cat Skiing Tours. You can enjoy the comfort of a heated snow cat on your way up the mountain, after which you will experience the exhilaration of light, untracked snow all the way down. The three mountains at Keystone Resort are Keystone Mountain (Dercum Mountain), North Peak and Outback. Keystone Mountain is known for its groomed, wide trails, and designated slow skiing areas, perfect for families and beginners. North Peak boasts steep mogul covered runs, and smooth cruisers that cater to the more advanced skier. The Outback features great tree skiing for the adventurous intermediate and advanced skiers, as well as powder skiing long after the main runs turn to packed powder.
Keystone has also invested heavily into its lodging and recreation beyond the mountain. Discover a variety of lodging options, from condos to private slopeside homes. The award-winning dining, a new 10,000 square foot eco-friendly spa, two golf courses and a 5-acre ice skating lake are also features around Keystone Resort. Keystone's close proximity to Denver, large conference facilities and impeccable service make the resort an ideal year-round destination for weddings and corporate events.
Keystone Resort features
Guided Cat Skiing Tours
10,000 square foot eco-friendly spa
3 mountains and over 3,000 ski-able acres
Find lodging for Keystone