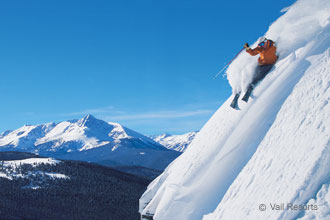 The Vail Ski Resort is located in Eagle County, Colorado, next to the town of Vail. The largest single mountain ski resort in the US, with 5,289 acres, Vail Mountain features seven bowls, and three sections: The Front-Side, Blue Sky Basin, and the Back Bowls. Opened in 1962, Vail Ski Resort is the second largest resort in North America, behind Whistler Blackcomb. Most of the mountain is wide open terrain, featuring trails of all types, from cruising runs off most of Front Side and Blue Sky Basin lifts, to the wide open Back Bowls, glades, chutes and moguls in the Northwoods area. Unlike other ski towns, the town of Vail grew after the ski resort was established. Vail Village is modeled after a Bavarian Village, with pedestrian streets and rugged mountain backdrops.
Vail was the second resort in the US to open 5 high-speed detachable quad lifts, which opened in 1985. In 1989, Vail again was in the limelight when it hosted the Alpine Skiing World Championships. The Championships were held in Vail again in 1999, to even bigger fanfare. In 2006, the Giant Steps double chairlift, the last double chairlift remaining from the opening in 1962, was removed. In August, 2006, Vail began offsetting all of its power usage by purchasing wind power.
Vail has recently been declared the #1 Ski resort in the US. It has been awarded this honor 14 times over the last 17 years. In summer 2007, after seven years without a new chairlift, Vail undertook one of the biggest lift improvements at a Colorado ski area when it installed two high speed quad chairlifts to replace the Highline (double) and Sourdough (triple). This eliminated the traverse from the Sourdough lift to Two Elk Lodge.
Vail Resort features
Delacred #1 Ski Resort in the US
Over 340 inches annual snowfall
Largest single mountain ski resort in the US
Find lodging for Vail