In the summer months, from June to early August, Colorado's Rocky Mountains are awash in brilliant colors. The cool nights and warm, sunny days make for splendid floral displays and the mountain vistas and extensive trail networks reward botanical aficionados with an exhilarating and scenic opportunity to take in mountain wildflower season.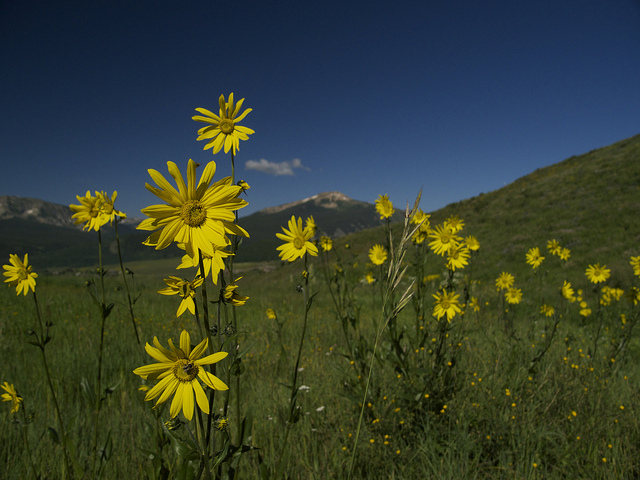 This trail is 9.4-mile out and back route requires moderate effort, due to straightforward terrain and modest elevation gain. Expect high, eye-level blooms along this trail, including colorful paintbrush, arnica, king's crown and bluebells.
Wildflower Season: Peak blooms are mid-July to mid-August.
Aspen – Cathedral Lakes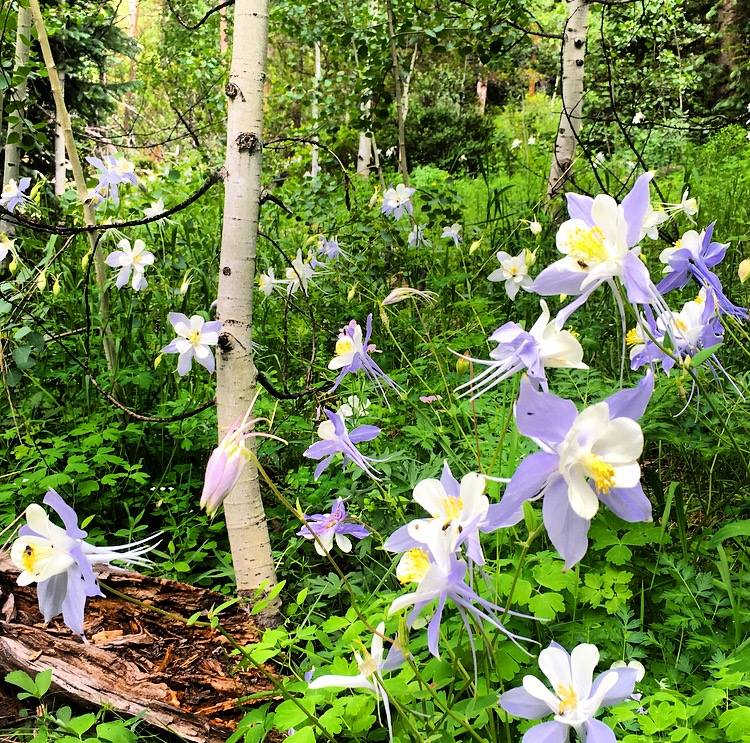 This renowned 6-mile trail is located off of Castle Creek Road and is considered strenuous because of steep climbs and altitude. Those who make the effort are rewarded with a breathtaking, crystalline lake surrounded by a "cathedral-like" amphitheater of towering spires. Keep your eyes peeled for columbine (Colorado's state flower), yarrow, golden aster, two kinds of pussytoes and Whipple's penstemon.

Wildflower Season: Peak time is mid-July to mid-August.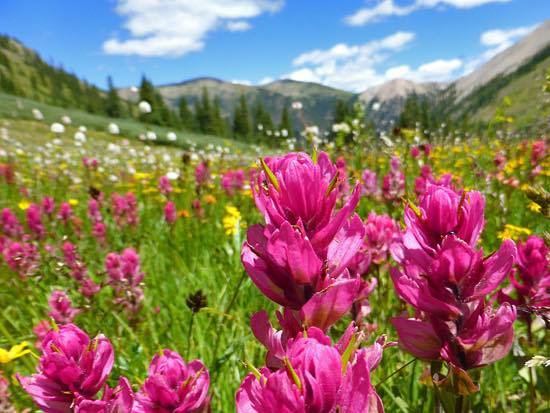 Depending on fitness level or how many wildflower photos you take, this 11.6-mile journey will take about six to 10 hours and requires an advanced shuttle reservations, but it's well worth it! Between the mountainsides and alpine fields awash in wildflower colors, 14,000-foot peaks, lakes and streams, West Maroon Pass is one of the best wildflower hikes in Colorado. Flowers commonly found include showy daisy, thimbleberry, shrubby cinquefoil, elephant heads and death camas.

Wildflower Season: Peak blooms are on show mid-July to early August.
Rocky Mountain National Park – Emerald Lake Trail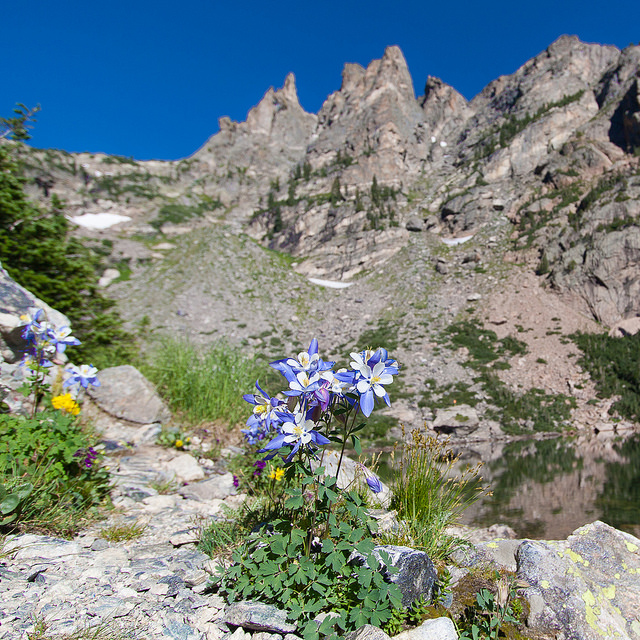 The 3.5-mile roundtrip hike to Emerald Lake begins from the Bear Lake Trailhead, located at the end of Bear Lake Road, 9 miles from the turn-off at Highway 36. This easy hike features just 650 feet in elevation gain, making it a great option for families and hikers who are unacclimated to the elevation. Plus, the views and wildflowers are spectacular and you can bag three lakes for the price of one. Emerald Lake Trail winds around Nymph Lake and Dream Lake and provides a stunning vista of Longs Peak and Hallett Peak.
Wildflower Season: Typically July to August.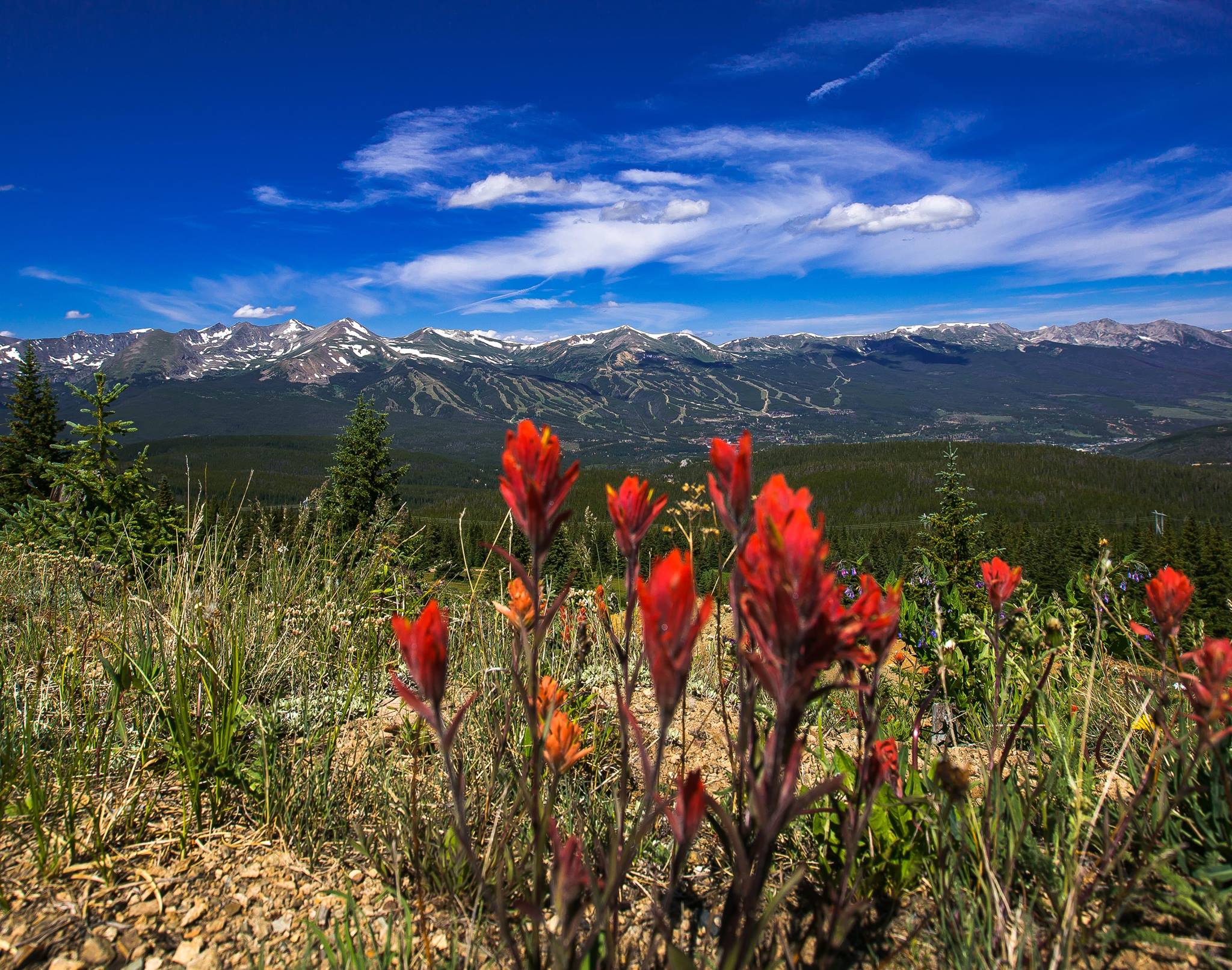 This 4.6 mile out-and-back trail is a local favorite in Breckenridge and difficulty level is moderate. The first part of the hike is along a dirt road, but don't be discouraged. The second half of the hike is through a beautiful, wildflower-dotted meadow. History buffs will want to be on the lookout for a mining-era grave dating back to 1864.
Wildflower Season: June to August
Telluride – Cross Mountain, South of Lizard Head Peak
This challenging 7.2-mile trail starts just south of Lizard Head Pass between Telluride and Rico. After winding through cool, dense evergreen forest, hikers reach the base of Lizard Head Peak. Here, enjoy corn lily, edible valerian, monument plant and rattlesnake plantain orchids.
Wildflower Season: Look for peak blooms mid-July to mid-August.